[ut_one_half effect="slideInUp"]
One of the most enchanting and best located houses on the Andalucian coast.
Front line Zahora beach, Los Caños de Meca, sleeping six people, the two floors of the house accommodate a kitchen-diner, bathroom with hydromassage shower, T.V, two ground floor bedrooms and two attic bedrooms.
Furthermore its inhabitants will enjoy the exquisite décor with views to Trafalgar lighthouse and Zahora beach from its large private terrace.
The terrace is located above the stage for our live music events, offering a privileged viewing position to enjoy the concerts and atmosphere.
[ut_button color="orange" target="_blank" link="https://www.sajoramibeach.com/reserva.html?id_idioma=1″ size="small" ]Booking Online [/ut_button]
[/ut_one_half]
[ut_one_half_last effect="slideInUp"][ut_tabgroup][ut_tab title="Virtual Tour" id="t1″]

Click or touch the image and drag to see the virtual tour
You may come in :)
[/ut_tab]
[ut_tab title="Photos" id="t2″]

[/ut_tab]
[ut_tab title="Videos" id="t3″ last="true"]
[/ut_tab]
[/ut_tabgroup]
[/ut_one_half_last]
[ut_one_fifth effect="slideInLeft"]

Rooms
[/ut_one_fifth]
[ut_one_fifth effect="slideInLeft"]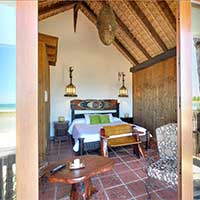 VIP Room
[/ut_one_fifth]
[ut_one_fifth effect="slideInLeft"]

Studios
[/ut_one_fifth]
[ut_one_fifth effect="slideInLeft"]

Apartments
[/ut_one_fifth]
[ut_one_fifth_last effect="slideInLeft"]

The Penhouse
[/ut_one_fifth_last]